Pamper your skin with our signature facials
Making time for self-care can be difficult for many. However, at Kenzi MedSpa, we aim to make self-care simpler with facials in Naples! Each service takes up to an hour and the results can last for weeks. Whether you simply want a day to pamper your skin or you are looking for brow and eyelash treatments to enhance your natural beauty, we proudly offer it all!
Signature Facial (60 min)
Custom-designed to your specific concerns and suitable for all skin types or skin conditions which includes, skin analysis, deep cleanse, tone, exfoliate, steam, extractions and customization of skincare tools based upon your concerns and goals.
Purifies and aids in the healing of acne and trouble areas. For patients that have clogged pores and are needing deep extractions focusing on clearing the skin from reoccurring break outs using products designed to clear pores and leave your skin deeply cleansed. Helps reduce impurities, assists on the sebum production, and has pore-tightening properties. Perfect for all ages.
For maintenance or high demand schedule. Helps skin get an extra boost. Cleansing, exfoliating the skin to encourage the regeneration of new skin cells, and a mask that fits your need.
Teen Facial (Ages 12-17) (60 min)
To introduce facial treatments and proper skin care. Helps balance the problematic skin to normal by purifying, soothing and exfoliating to prevent and eliminate breakouts.
Gentleman's Facial (60 min)
Specifically tailored for the male complexion that addresses skin that is irritated by shaving, ingrown hairs, and breakouts while reducing appearance of sun damage and fine lines. Ideal for men who like to look and feel their best, the This royal treatment is wonderfully relaxing and a real benefit to keeping your skin in good shape.
A treatment that consists of deep cleansing, exfoliation, and extractions intended to clarify and soften the skin of the back. It will hydrate and detoxify leaving your skin healthier.
Advanced Facial Treatment/Skin Resurfacing
Ultrasonic Facial (60 min)
A non-invasive medical procedure that aims to give the skin a tighter, younger-looking appearance. It uses a technology known as high-intensity focus ultrasound. Helps increase the production of collagen, firm the skin, improves blood circulation and helps skin cells to cycle more quickly, leading to clearer, more youthful looking skin. Ultrasound can strength the penetration of products into the skin tissue, to achieve your skin goal.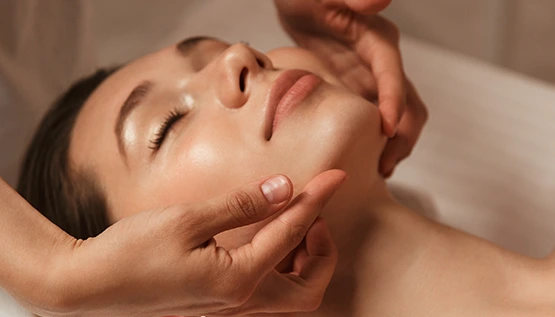 Vitamin C Facial (60 min)
A clinical treatment to obtain your daily dose of vitamin C with anti-aging and firming facial infuses clinical grade of Vitamin C packed with vitamins and antioxidants to fight free radical damage, sun damage, and signs of aging for a more youthful complexion. Recommended for dull, uneven tone and texture. Not recommend for very sensitive skin.
Profacial Aqua Facial (60 min)
A non-abrasive clinical treatment to remove the dead skin layer to improve overall skin texture, tone, and appearance. This is due to the deep exfoliation that cleans your pores, removing debris helping the hair follicles be filled with nutrients, providing long-lasting nutrition to the skin, making the skin moist, delicate and shiny and allowing for better penetration of skin care products.
Add Ons/Finishing Touches
Lasts up to 6 weeks
Brow Lamination gives the appearance of full, perfectly shaped eyebrows. This is an optimal solution for unruly eyebrows lacking symmetry. With lamination, brows can be realigned in such a way to give them the desired shape for a fuller appearance. This treatment maintains the appearance of more volume and fullness, while giving a sleek, defined brow shape for approximately 6 weeks.
Lasts up to 6 weeks
Provide freedom from daily use of lash curlers and mascara!
This semi-permanent service creates perfectly lifted and tinted lashes that last for up to 6 weeks!
Lasts up to 5 weeks
Make brows look fuller with henna tint.
Lasts up to 4 weeks
Make your lashes POP. Close your eyes, relax, and take time for yourself in a 30 min service. You'll leave with more defined lashes, and you won't miss the daily mascara routine.
AESTHETIC SERVICES
Kenzi MedSpa Featured Skin Rejuvenation Services
We are happy to highlight some of our most popular skin rejuvenation services. Schedule an appointment to learn for yourself why they are client favorites!
Microneedling
Contour and firm your skin with microneedling
Chemical Peel
Rejuvenate your skin with medical grade chemical peels
Microdermabrasion
Rejuvenate your skin and embrace your natural glow with microdermabrasion!
Plexr Treatments
Tighten skin and erase blemishes with Plexr treatments